17 Sci-Fi Myths of Insolent Grit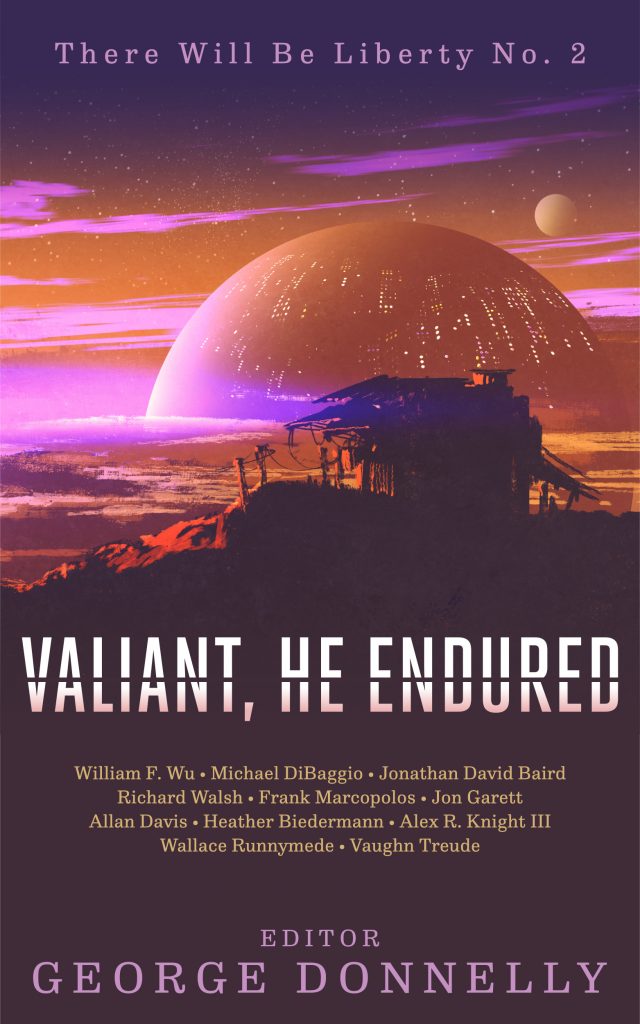 From the 1898 Martian Siege of Baltimore to a forlorn AI attack dog on the blue-star-scarred surface of MZ458-C and from the merc-manned Freestead Mayflower off the coast of post-apocalyptic Portland to the man-desperate shores of the Red Sea, here are seventeen science fiction stories of valiant endurance.
These heroes battle conspiracies of usurpers, confront the unearned consequences of others' willful lunacy, seek out buried truths at unbearable personal expense and endure the inhuman demands of digital rebellion in worlds innately hostile to truth and freedom.
With original, never-before-published works from veteran authors, including William F. Wu, as well as emerging talents.
Valiant, He Endured is book 2 in the There Will Be Liberty anthology series.
Anthology / Science Fiction / Anthologies / 45,000 words
Ebook ISBN: 9781941939093
Paperback ISBN: Pending

Reader Reviews
I love well done anthologies, but there are so many bad ones! This is one of the good ones and it does what sci-fi was made to do: examine complex social and ethical issues in a thought-provoking and entertaining way. I laughed out loud at several of the stories, very funny! And some of them made me pause and mull over what I had just read. The liberty themes came through each one, some subtle others more in your face. Loved it! High caliber authors, good flow from story to story. – Amazon reviewer
The Stories
Seventeen thrilling stories of valiant endurance, 45,000 words in total.
Unwholesome Victuals by Michael DiBaggio (2,998 words)
Raven9 by George Donnelly (985 words)
Welcome to the Neighborhood by Allan Davis (998 words)
Chip Doc by William F. Wu (973 words)
Garbin's Honor by George Donnelly (9,508 words)
The Vote by Allan Davis (787 words)
One Small Step for Mein Führer by Alex R. Knight III (858 words)
The Thing on the Nightstand by Allan Davis (360 words)
The Flight of New China: Spaceship Pingdeng by Wallace Runnymede (495 words)
Escape from the Keep by Heather Biedermann (4,733 words)
The Ballad of Mama Leche by Richard Walsh (1,296 words)
Conformity is Mandatory by Jonathan David Baird (468 words)
Doubleplusunhate by George Donnelly (1,191 words)
Paradoxes of Water Filtration by Jon Garett and Richard Walsh (2,414 words)
Ghost Writer by Vaughn Treude (1,995 words)
Icky by Frank Marcopolos (2,066 words)
Trial by Twit by George Donnelly (12,575 words)
Download a Sample
Download a sample of Valiant, He Endured completely for free at Amazon.
Review Copies
Would you like to review Valiant, He Endured? Email me for a free review copy.