You've presented me with a great gift – new reviews! As an INTJ, emotion figures little in my calculations. I try, but it just doesn't compute. But this outpouring of support is melting even my titanium heart. Have an organic, if virtual, bear hug from me to you.
Valiant, He Endured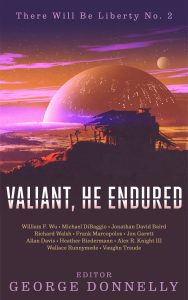 I love well-done anthologies, but there are so many bad ones! This is one of the good ones and it does what sci-fi was made to do: examine complex social and ethical issues in a thought-provoking and entertaining way. I laughed out loud at several of the stories, very funny! And some of them made me pause and mull over what I had just read. The liberty themes came through each one, some subtle others more in your face. Loved it! High caliber authors, good flow from story to story. – Amazon reviewer
Rise the Renegade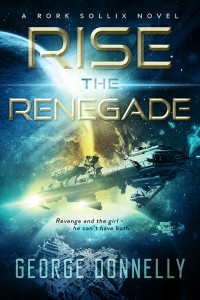 GD has written a SyFy novel with a very good plot and storyline… This is an excellent read for the genre. – Amazon reviewer
Great introduction of a strong, even if slightly flawed, action hero. Rork, the never say die, action hero. I am physically winded after reading this book, Rork never stops! I look forward to following Rork and Lala's adventures together asap! Good solid writing, thank you George Donnelly. – Amazon reviewer
Pink Slip Prophet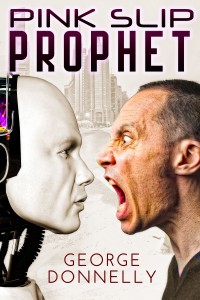 Ian Blake, father of three, just saved a baby and was fired from his job. I hated his boss, Larry, and Ian's so called family, wife Cindy, daughter Stacy and son Michael, even though they don't know any better. Only Jack the youngest child was real… I thoroughly enjoyed this story and look forward to more by this talented author. Remember this name George Donnelly. – Amazon reviewer
I enjoyed pink slip prophet. I found the good guys really good and the bad guy really bad lol… Overall it was a good read, and I felt true hatred towards the villan lol. So good job! – Amazon reviewer
Death Shop
It was hard to put down. Fast paced and straight to the action. – Amazon reviewer
Lando Cruz and the Coup Conspiracy
What a crazy book! In an incredibly fast paced and irresistible manner. Crazy characters, crazy storyline, crazy twists, but…. I totally got and empathized with Lando – the main character. Mr Donnelly, please tell me there's a sequel!! Sci-fi, future earth, corrupt political systems, revolting populace – this had it all. – Amazon reviewer
Defiant, She Advanced
Awesome compilation of stories. Great views on a variety of subjects, from the standpoint of SciFi-based storylines. – Amazon reviewer
Want to get in on the lovefest? Pick one or more of my novels/anthologies and email me to get free review copies. Then leave Amazon and/or Goodreads reviews. Review early, review often! I can't do it without you.
Photo Credit: Bob Haarmans CC-BY