As an author, you want to get published. But that's not enough. You also want new readers to discover you, to actually read your story, and maybe to even review your story and join your mailing list.
Because that's how you grow your author profile. That's how you become known, how you get even more readers, sales, reviews, and interviews.
Gotta Keep 'em Entertained
If you already have a sizable mailing list, your job now is to keep your readers entertained, so they don't forget about you. You need to send them new content weekly, and ideally recommend them new stories and books on a regular basis.
Anthologies are a great way to achieve all this. Anthologies are about authors working together to produce new content for our readers and get introduced to new reader audiences.
The Challenge
In the libertarian science fiction community, this can be quite a challenge. We all care deeply about the cause of individual liberty, but connecting with readers and getting published is not easy.
That's why I started the There Will Be Liberty libertarian science fiction anthology series in 2014 with book 1, Defiant, She Advanced, the first libertarian science fiction anthology in more than a decade. Eight authors worked together to publish 10 stories that have been downloaded thousands of times. The anthology has a rating of 4.3/5 on Amazon right now.
Twelve of us followed that success up with Valiant, He Endured in 2016.
Now, we're doing it for the third and, possibly, final time.
Book 3: Intrepid, She Blasted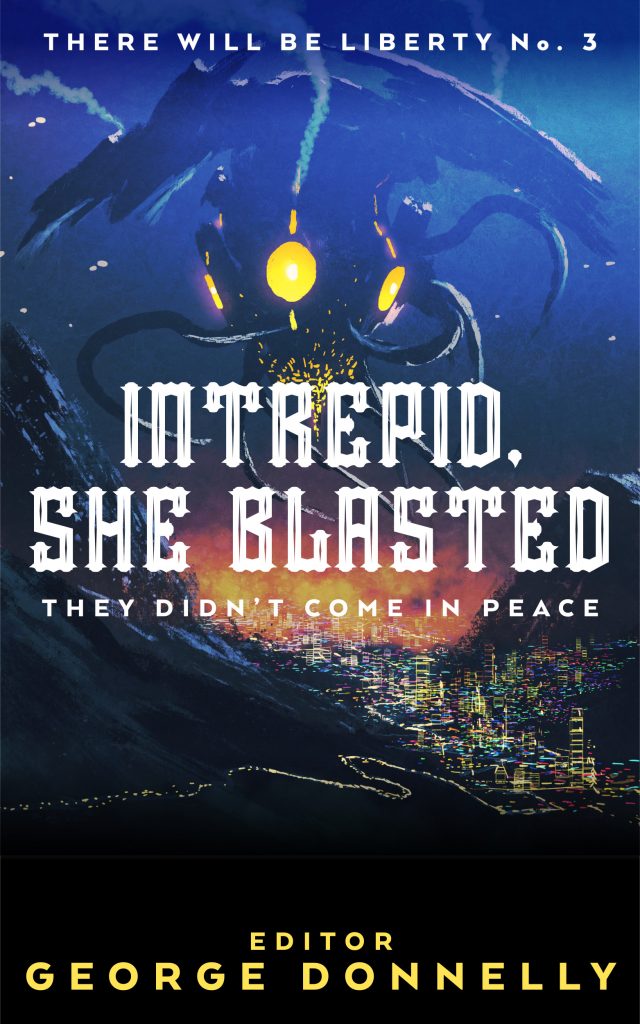 Intrepid, She Blasted is now open for submissions. I would love to work with you to publish your story. Here are the requirements:
Between 2,500 and 50,000 words.
Science fiction that involves battling, fighting, invasion, etc.
Submissions must be complete stories – with a beginning, middle and end – and never excerpts.
Submit as many stories as you like.
If submitting stories that were previously published, just make sure to also submit at least one that has never before been published.
You must have a mailing list and be willing to promote the book to your mailing list and on social media at least once.
You must have your story proofread and line-edited prior to submission, by you or someone else. Please don't submit messy drafts, only final work. Although I'm an editor and the editor of this project, this is unpaid volunteer work, so please pitch in (or hire me).
The story must have a liberty- or freedom-related theme. This is a very vague and general requirement.
There is no exclusivity requirement.
Submit your stories no later than December 18, 2017.
Submit your stories using this form, one story per submission.
Capitalism FTW
I plan to offer the anthology for sale but the logistics of me paying you for your submission are troublesome at best, so I'm not offering any payment. Your story will, however, be professionally formatted and published with a nice cover (see above). It will be available for sale at more than half a dozen online retailers. I will be using my email marketing and book marketing assets to regular promote the book. I am constantly promoting book 1 in the series, which is free across a wide range of platforms, and I use the leads generated from that to sell readers books 2 and 3.
You will receive free ebook copies of the final work in mobi, epub and pdf and you can distribute the book to your readers free of charge in a way that makes sense for your marketing strategy. Please do not post the files publicly, however.
You can also include a bio and a link to your website at the end of each of your stories that is included in the collection, so readers can connect with you and find the rest of your books.
The Schedule
Here's the schedule. Keep in mind, I have been known to both publish on time and to sometimes allow projects to be delayed by weeks or months. I do intend however to meet these deadlines.
Announcement Oct 23
Stories due Dec 18
Editing done Jan 1
Published Jan 8
Rights
Here's the license I'm asking you to agree to. It's plainly visible at the end of the submission form:
I affirm that I am the owner of the content provided herein and am granting a royalty-free, non-exclusive, perpetual, irrevocable license to use the content as part of the anthology "Intrepid, She Blasted" (title subject to change) edited by George Donnelly in ebook, print, audiobook and translated formats. Once the anthology is published, I promise to promote it to the best of my ability through my author website, mailing list and social media account(s). (If you don't agree, please don't submit the form.)
Email me anytime at [email protected] to discuss the anthology. I'm thrilled to chat with you about it anytime and offer any support or input that you think might be valuable.
Please help me with getting the word out to other authors.
P.S. Here's the submission form again. 🙂